Home > Things to Buy > Computer Shopping
Computer Shopping
There are a number of arcades within Wanchai which have computers for sale.
Wanchai Computer Centre
The biggest and most busy is probably best for the tourist as it is easy to reach, has a good range of shops, and is comparatively safe and easy to manage without local language skills.
As well as small local shops there are major brands here as well, though the turnover of shops is so frequent that you can't be sure what you will find on any one day.
Prices here are negotiable though as with typical electronic items the price margins are thin so. Typically the figures quoted are "cash" price so expect to pay more if you are buying with a credit card.
Prices and range of goods here will not be as good as the arcades in Sham Shui Po, but of course Wanchai is much more convenient. For an intermediate level try also 298 Computer Zone in Wanchai.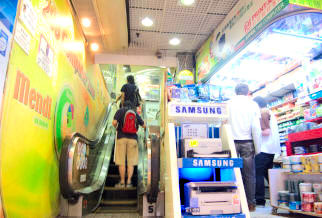 298 Computer Zone
Similar sized as the main Wanchai Computer Centre the arcade at 298 Computer Zone is slightly harder to find but has less tourists and is generally a little more basic in terms facilities.
With less tourists though the prices may be better and as slightly more hard-core computer geek arcade you'll find more up to date items and a better range in some areas.
Oriental 188
Just behind 298 Computer Zone is Oriental 188. You can reach it by leaving 298 by the front, then going into and through the small arcade of CC Wu building. On leaving the rear of CC Wu turn uphill and the next entrance is into Oriental 188.
One of the oldest computer arcades in Hong Kong this one focuses more on game and includes many things for game consoles as well as computers. If you want the latest PSP games or a new controller then this is the place to look. Much of the material is Japanese so if you are a fan of Japanese cartoon based games then this is also a must-see.
Shopkeepers here will be able to conduct a basic transaction in English but if you need to discuss in detail then you may need to look around to find someone with more language skills.